About


Prairie Kids Dental


in Columbus, OH

Prairie Kids Dental serves children of all ages in Columbus and surrounding areas. Our friendly and empathetic team isn't just highly experienced when it comes to working with babies, kids, tweens, and teens—it's also our greatest passion! If you would like to learn more about our office, we recommend browsing our website and checking out our many five-star reviews. You can also contact our office for more specific information and questions.
We look forward to seeing your family soon!

Contact Us
Our Mission:
Wellness focused-modern dentistry for children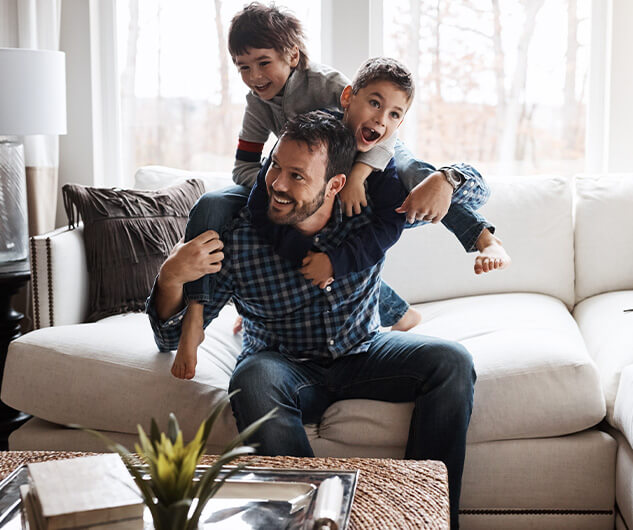 Our Amenities
We want all of our patients to have their oral health taken care of and have lots of fun at the same time! As a pediatric dental practice, our entire office is centered around children and their unique needs. Some of our kid-friendly amenities include:
Fun Play Area in Lobby
Books and Toys for All Ages
TVs in Every Treatment Room
Treasure Chest Full of Prizes
Modern Dental Technology
Utilizing state-of-the-art dental technology helps our office provide high-quality dental care faster and more effectively. We are proud to use many advanced dental tools in our work, including:
Intraoral Cameras allow our team to get an up-close look at the patient's teeth and gums. These handheld cameras stream a live video feed to a computer screen, so patients can get a closer look at their smile too!
Digital X-Rays take pictures quickly and efficiently and provide a much clearer picture that can be enhanced if necessary. Digital X-rays also emit less radiation than traditional X-rays, which is safer for patients and our team.
Dry Shield Isolation makes it easier for patients to hold their mouths open for extended periods of time while also suctioning saliva, which makes dental treatments easier and more convenient for everyone.
Silver Diamine Fluoride helps kill bacteria and strengthens tooth enamel at the same time. Regular fluoride treatments can help keep your child's teeth strong and healthy now and well into the future.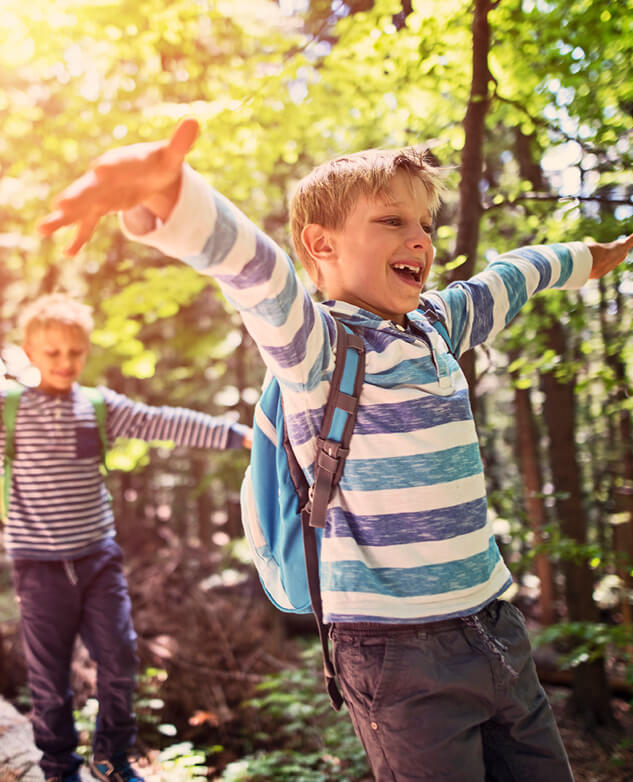 Our Office Policies
Please arrive 15 minutes early to your appointment to take care of any last minute details and allow adequate time to care for your child. Late patients may need to be rescheduled.
We require 24 hours advance notice (by 2 PM the previous business day) if you cannot make your scheduled appointment.
We allow only one missed appointment (without prior notice) per 12 months. For a second broken appointment within 12 months, you will be placed on a same-day call list.
Someone other than a parent or legal guardian may accompany your child after their initial visit, but we will need a completed form with detailed information on that authorization.
We ask that all visitors be mindful of using cell phones in our office due to privacy, security, and courtesy concerns. Please ask before taking pictures or recording videos.
Contact Us

Meet Our
Columbus Dental Team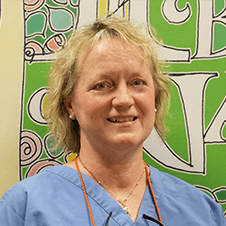 Dr. Kimberly Gill
Dr. Gill was born and raised in San Antonio, TX. She received her bachelor's degree in biomedical science from Texas A&M University. Dr. Gill went on to earn her Doctor of Dental Surgery degree from the University of Texas Health Science Center at San Antonio in 1987. She is also a military veteran and served as a commissioned officer in the Army, Air Force, and Public Health Service. While in the military, Dr. Gill completed specialty training in pediatric dentistry at OSU/ Nationwide Children's Hospital in 2002.
Dr. Gill's interests outside of work include working on her hobby farm, classic automobiles (especially Mustangs), music, the great outdoors, travel, and languages. Dr. Gill has a passion for all things of great beauty and values that which improves ones' quality of life.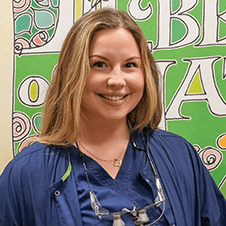 Dr. Kimberly Holmes
Dr. Kimberly Holmes is originally from Kelleys Island, Ohio and is the youngest of 3 children. She completed her undergraduate degree at Muskingum University and received a Bachelors of Science in Chemistry. Following undergrad, she earned her Doctorate of Dental Surgery from the Ohio State University. She has two animals—Chance the Dalmatian and her kitten, Beef Puff. She loves spending time with her niece, going to spin class, and traveling!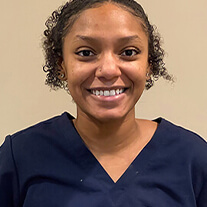 Kanasha
Surgical Technician/Pediatric Dental Assistant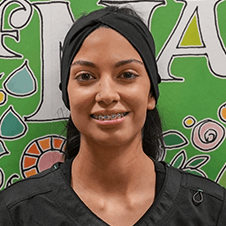 Emely
Pediatric Dental Assistant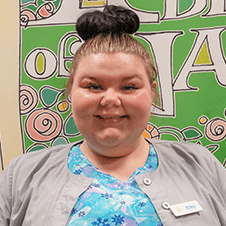 Kiley
Registered Dental Assistant/Coronal Polisher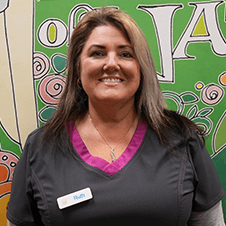 Ruth
Practice Manager/Hospital Scheduler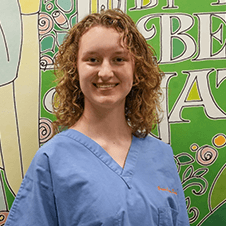 Ariana
Pediatric Dental Assistant, Therapy Dog Trainer/Handler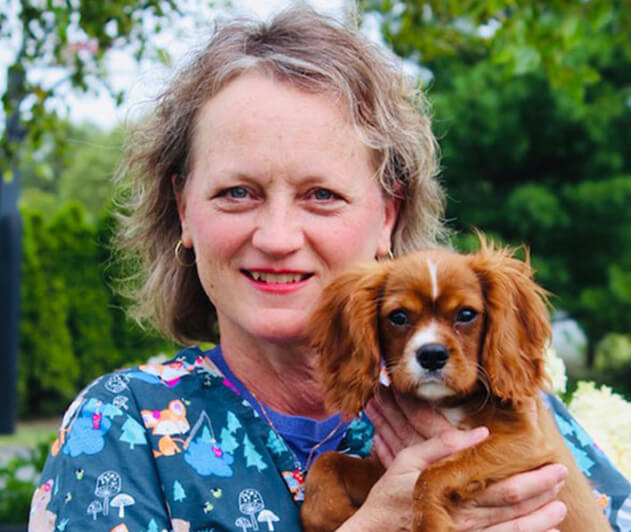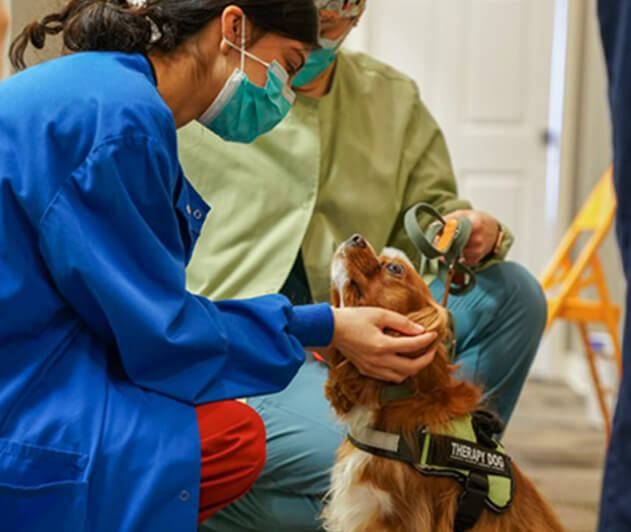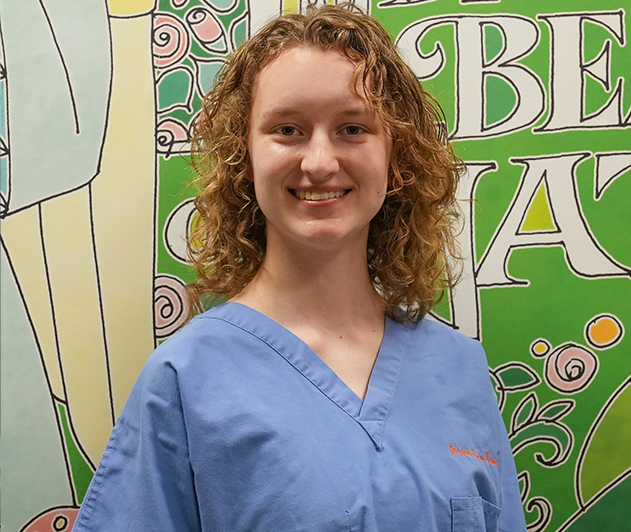 Meet Oliver, Our Office Therapy Dog
Whether you experience chronic dental anxiety or you just want to have a furry companion sit with you during your treatment, our office therapy dog Oliver is available upon request! Simply let us know that you would like him to join you when you schedule your appointment, and we'll be sure to add your visit to his calendar.
If he is available in the office when you come in, he may be able to attend your appointment with you even if you didn't request his services beforehand, but there are no guarantees. Therapy dogs have been shown to make medical and dental visits far more relaxing and enjoyable for patients, so we are happy to provide this option (and so is Oliver!)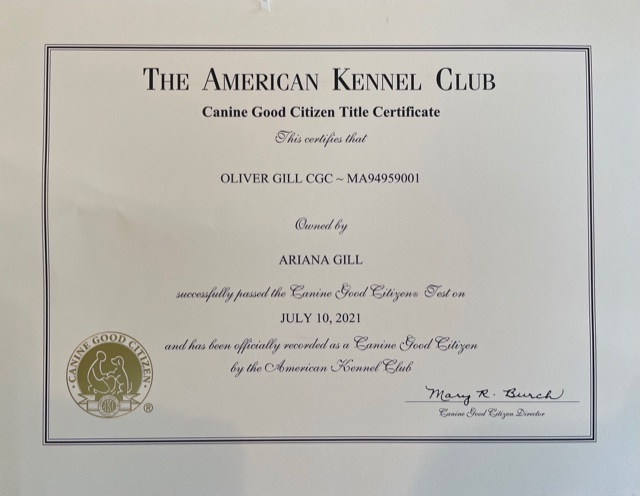 Contact Us